Bathroom Painting | St. Charles Painting & Remodeling
What happens when you introduce moisture into a room?  Mold, mildew?  Yes, this can develop real issues as it gets under old and cracking paint causing damage to your drywall.  Keeping your bathroom paint job up-to-date is of extreme importance and needs to be dealt with promptly before mold and mildew spreads.  St. Charles Painting & Remodeling LLC doesn't take this lightly and won't just paint over these sorts of issues.  We want to give you a quality paint job for your bathroom and this means properly preparing, repairing, and caring the surface that is to be painted.  To whatever extent the issue, we make the required drywall repairs and even replace the drywall if necessary.  Our highly qualified and skilled painters will take the necessary steps to ensure the prevention of future mold and mildew issues.  The right paint is important.  We will help you choose a high quality paint that will resist mold and mildew and the high humid conditions your bathroom paint will be exposed to.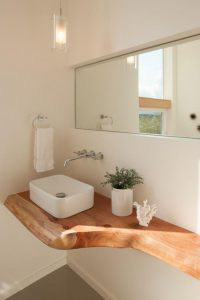 Contact Us For Your Free Estimate
Whether it's a full-scale mold and mildew operation or just a fresh paint job or update, St. Charles Painting & Remodeling LLC has the skills and the tools to get the job done right and make the room look vibrant and brand new.  Looking for a soft natural look, a clean and bright appearance, a spa or beach kind of feel?  Whatever you desire we can help you choose the right colors for the type of atmosphere you want for your bathroom.
For the best bathroom painters and remodelers in town call St. Charles Painting & Remodeling LLC at 314-332-3825 or simply fill out the Contact Form on this page.
St. Charles Painting & Remodeling for all your painting and remodeling needs, serves the St. Charles County, Greater St. Charles County, and western portions of St. Louis County areas.  Some specific localities we serve, (but are not limited to), in the St. Charles and Greater St. Charles areas are Cottleville, Dardenne Prairie, Foristell, Lake St. Louis, O'Fallon, St. Charles, Saint Peters, Weldon Springs, and Wentzville to name some.   Over in St. Louis County some localities we serve, (but are not limited to), are Ballwin, Chesterfield, Clayton, Creve Coeur, Florissant, Kirkwood, Ladue, Manchester, Maryland Heights, Winchester, Westwood, Wildwood to name some.