Deck & Patio Restoration | St. Charles Painting & Remodeling
There is nothing like stepping out on your deck or patio to enjoy the outdoors with your family and friends or to relax on your own.  But the deck or patio is looking run-down, maybe some boards on the deck need to be replaced or the patio is cracking or simply needs to be cleaned and restored.  St. Charles Painting & Remodeling provides complete deck, concrete, brick, and stone restoration services.
Your deck or patio can provide many years of enjoyment to your home and family but left to the outside elements it can become worn down and unsafe as wood and connections become degraded.  With harsh daily exposure to sun, wind, snow, and rain, your deck or patio needs protection from the elements.  Our skilled and knowledgeable staff will make the required repairs and will clean and prepare the surfaces appropriately prior to any applications.  We offer the most technologically advanced coatings, sealants, stains, and paints that will give your surfaces the treatment they deserve.  Contact St. Charles Painting & Remodeling at 314-332-3825 and let our professional team protect or replace your deck or patio so that you can enjoy it for years to come.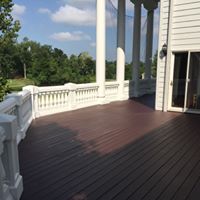 Contact Us For Your Free Estimate